The Air Cadets offer plenty of activities for you to take part in - whether it's flying in a Chinook Helicopter, or learning a new skill such as first aid. Whatever your experience, they'll always be something for you.
When you first join you'll go through 3 months of basic training, including things such as basic map reading, and the fundamental principles of flight. 
This gives you a chance to get to know the other cadets and gives you a foundation of knowledge to build on during the rest of your time with us.
After your Phase 1 training you'll then get gradually introduced to new activities as you progress, so you can make the most of every opportunity that comes your way.
Have a look below for some more detailed information on what we have to offer.
You can also check out our monthly news or photo archive to see what we've been up to!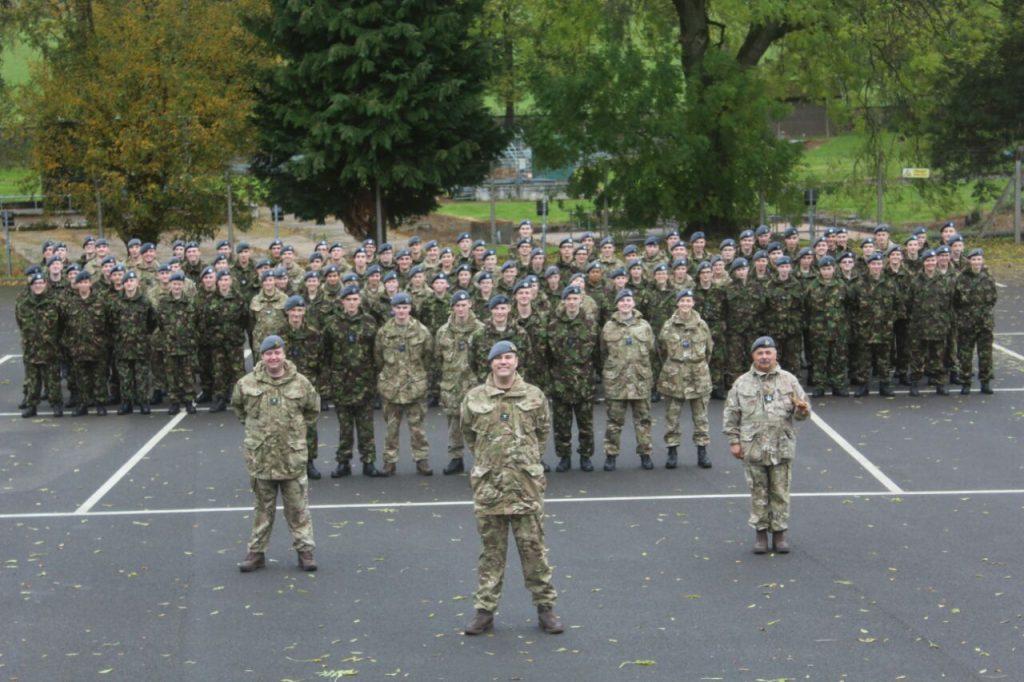 There are a few different types of camps you can take part in the air cadets, and there's sure to be one for you, whether it's a camp where you learn a new skill or one just for fun. On these camps you could be doing things such as visiting RAF stations, doing 24 hour night exercises, hiking up mountains and go karting!
As well as camps based in the UK, cadets regularly participate in overseas camps in counties such as Germany, Gibraltar and Cyprus. These camps tend to be more relaxed than UK camps, due to the greater experience amongst the participants. They focus on things such as gaining valuable work experience with RAF personnel, visiting local sites of historic or military interest and visiting local attractions. Cadets also get the opportunity to explore towns in the local area.
Overall camps in the air cadets offer amazing opportunities and experiences you would never normally have and gives you a chance to meet new people and make new friends.
Another regular activity we take part in are individual and team sports. 
There are many types of sports you can take part in. Including, Athletics, Cross-country, Football, Rugby, Hockey, Netball, and many more.
As well as these the squadron runs regular sports night. These could include 5-a-side, table tennis, volleyball, racquet sports or many others.
There are frequent competitions between squadrons, where the best players are selected to represent the wing and then region, if you make it through each of those selections, You'll have a shot at representing the entire cadet corps, nationally and even internationally.
Although you'll be playing for fun, the air cadets will encourage you to unleash your competitive side. Don't worry if you don't think sport is your thing. You don't have to be the next Olympic star, just take part and enjoy yourself!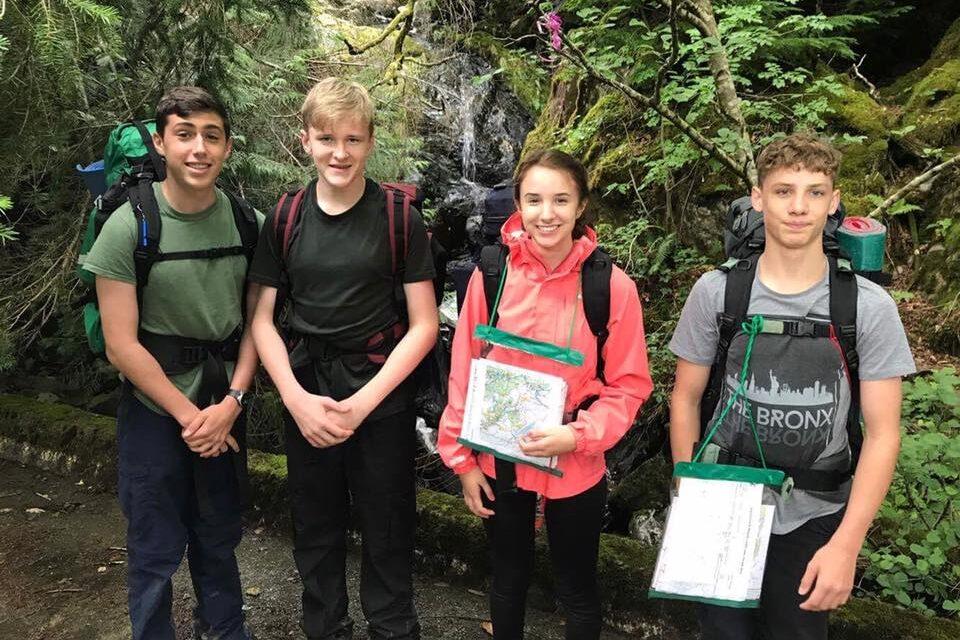 You may of heard of the DofE (Duke of Edinburgh) Award, but don't know what it is or whether it's for you. Well, it's for everyone who likes a challenge. Their mission is simple – 'to inspire, guide and support young people in their self-development, and recognise their achievements'.
DofE is a large part of being a cadet, With the same sense of adventure that drew you to the Air Cadets in the first place, the Duke of Edinburgh Award takes you through a programme of activities that will leave you a more confident, motivated and capable person. All three levels are available to you through the air cadets, and when completed will lead to a bronze, silver or gold award.
The air cadets are proud to be the DofE Award's largest participant.
Aside from all the great experiences and new skills you'll gain as an air cadet, you can also take away real qualifications that will set you apart from the crowd when you head to university or begin your chosen career.
The Duke of Edinburgh award is one such qualification that employers everywhere recognise as a great achievement.
BTECs are also a huge part of cadet service. You could find yourself undertaking a BTEC in public services, aviation studies or even in music, all of which equate to equivalent GCSEs. Once you've completed all of you syllabus training and have reached Master Cadet you'll automatically gain a BTEC in Aviation Studies.
At Bassingbourn Squadron we're hot on first aid meaning you could gain a certificate in first aid from St Johns Ambulance. We also offer training in various other areas such as CPR training and basic first aid skills 
If leadership is your thing then we could offer you a variety of leadership courses all the way up to Corps level, some of which will give you an externally recognised qualification.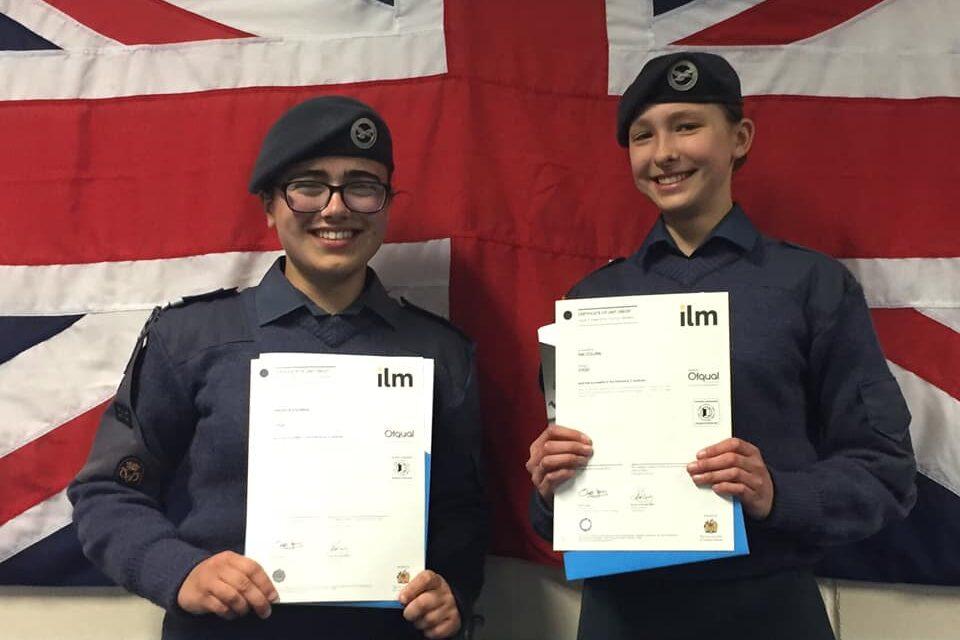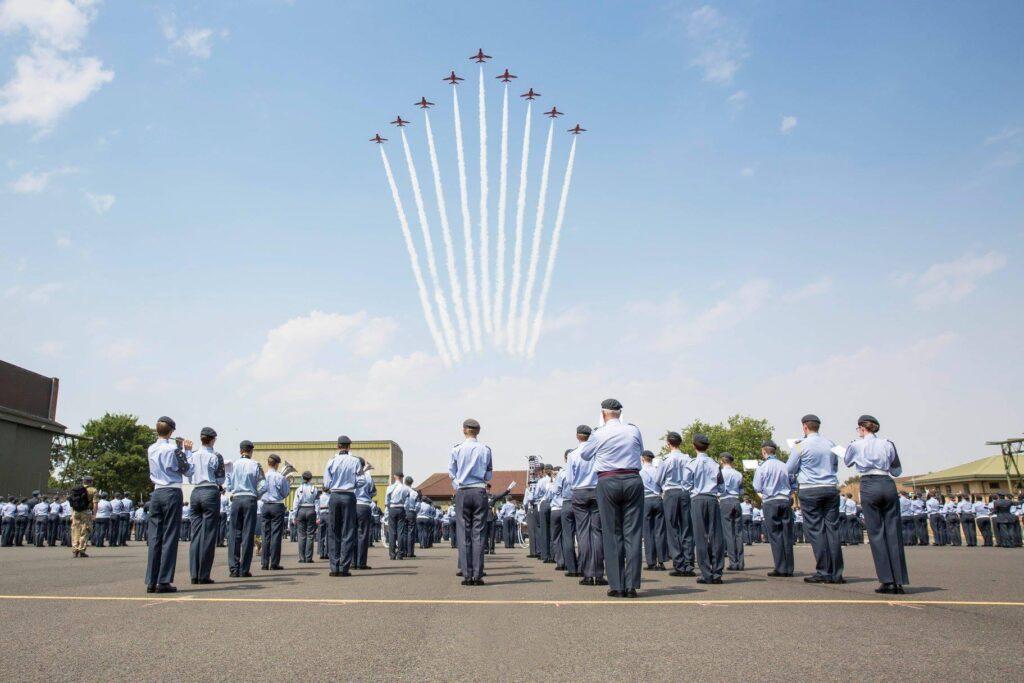 Many people wonder "what's the point of drill?" You may think it doesn't have much to do with things like adventurous training, or leadership. But that's not the case at all, It shows how disciplined and organised you are as an individual and how well you can remember and carry out instructions. 
More importantly, it develops your self-discipline, teamwork and leadership and is a way of displaying the high standards of dress and behaviour which the air cadets are renowned for.
Drill is an integral part of being an air cadet. As a cadet, you'll participate in various forms of Drill, such as: Foot Drill, Basic Drill, Banner Drill, Band Drill and Arms Drill.
When a group of twenty cadets walk on to a parade square they are all individuals, but as soon as a session of drill begins the cadets become a team, following the orders given by one person. Whatever the reason for a drill it's an impressive sight and shows civilians and members of the Forces just how well disciplined you are.
True to its name, in the air cadets you will have the opportunity to go flying. Flying with the Air cadets is a fantastic experience and is something you'll never forget. You'll fly in the Grob G115 (Also know as the Grob Tutor)
It's our aim to get you airborne as often as possible, as a passenger in a light aircraft, a glider or even on-board RAF aircraft such as a fast jet or a Chinook helicopter. 
Some cadets will also get the chance to enroll on the Air Cadet Pilot Scholarship and enjoy the privilege of learning how to fly and navigate in the Aquila.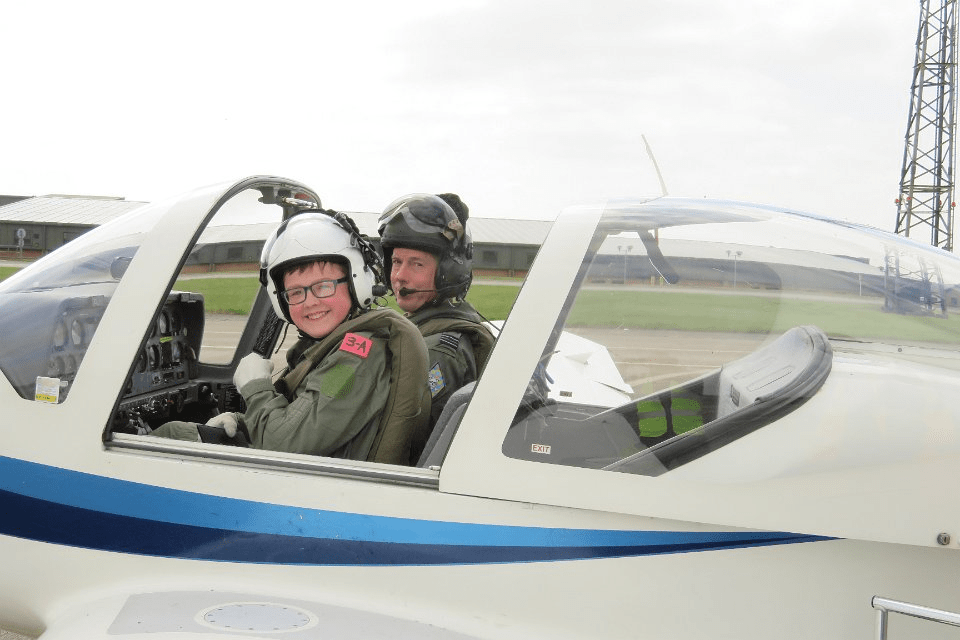 Gliding is an equally exciting experience and is If you go gliding you'll fly in the Viking T1.
Some of you might even have the chance to gain a gliding scholarship in the RAF's Viking T1. You'll undertake up to 12 hours of practical flying and even have the chance to fly the glider solo or even become an instructor!
Fieldcraft is the word used to describe the techniques involved in living, travelling, or making military or scientific observations in the field, especially while remaining undetected. Fieldcraft training is a core Air Cadet activity. Its main purpose is to train cadets to live and work effectively in a field environment. It offers opportunities to develop cadets leadership, communications, navigation and First Aid skills.
Fieldcraft exercises vary widely and each emphasizes different aspects of how to survive in the field. Many involve two teams being pitted against each other in exercises lasting anywhere between a few hours to a couple of days.
You and your team might need to move quietly, avoiding detection as you sneak up on an 'enemy' installation to rescue a "hostage", or you might need to escort a VIP through enemy territory without being caught. Whatever the scenario fieldcraft Exercises are enjoyed by everyone.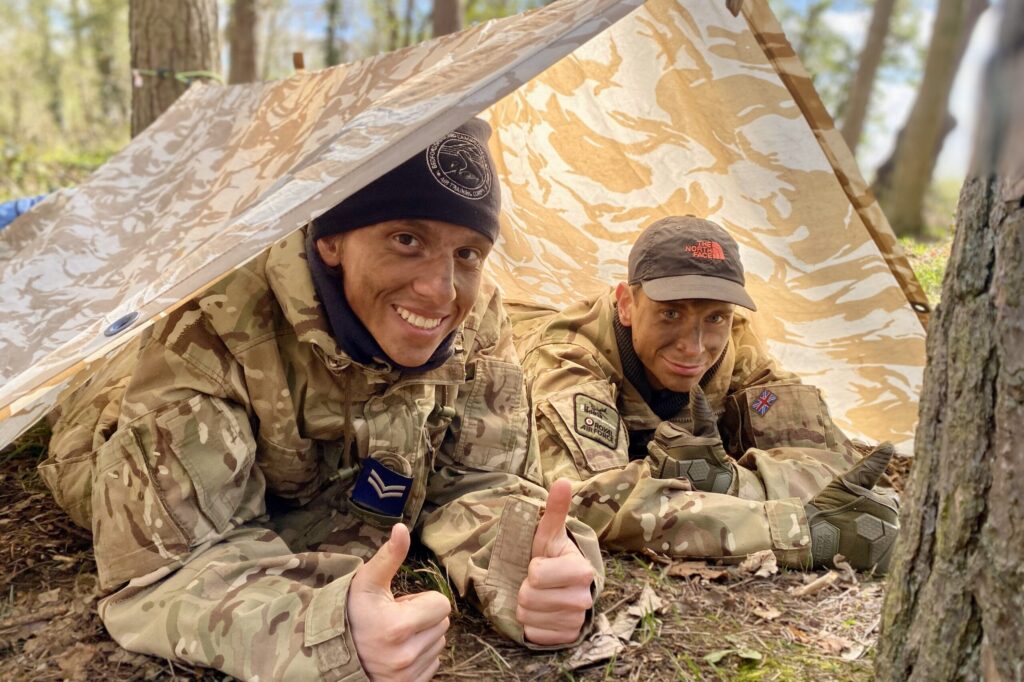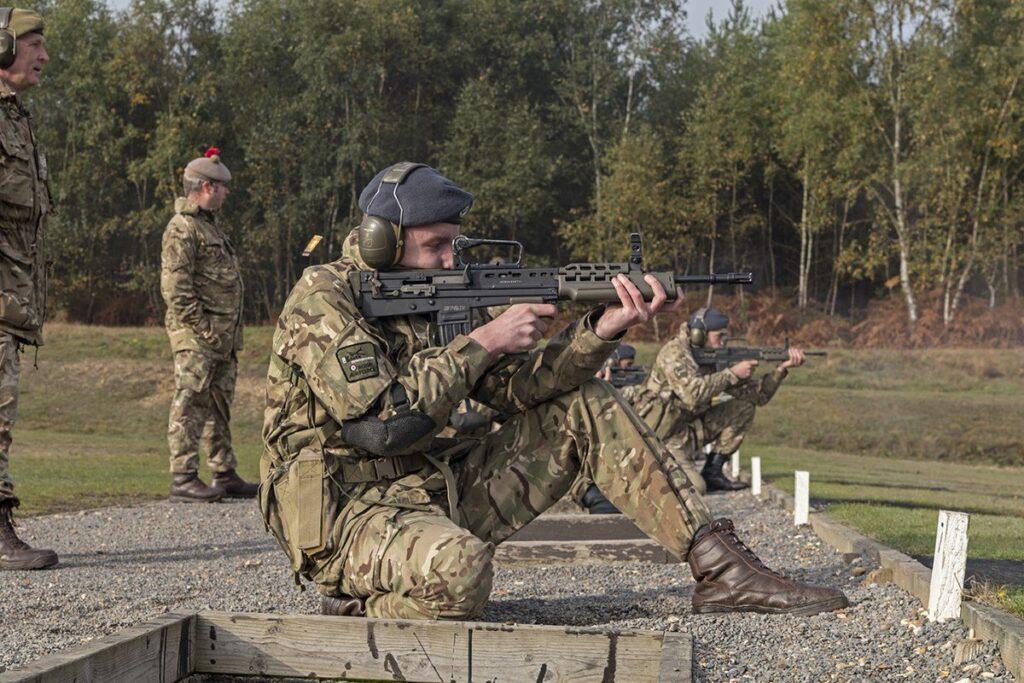 Whatever level you are as a cadet, you will have the opportunity to try your hand at target shooting.
We'll teach you to handle a variety of weapons safely. Basic firing is always done lying on your stomach at static targets. Progress through the syllabus and you'll experience different types of weapons, firing positions and could even take part in shooting competitions if you really improve your skills.
Here at 2484 Bassingbourn Sqn we have our own range which we can use on squadron nights. This means we can develop our marksmanship skills and improve our techniques on any parade evening we desire. Shooting is great fun and even if you aren't interested in it, it's a great way to increase your focus and it's also a great experience to have!
When you first join the Air Cadets you will partake in our first class training. This gives you the basic knowledge on topics such as map reading, radio communications and uniform management.
Once this is completed you will move onto further training in areas like Airmanship, Principles of Flight, Piston and Jet engine propulsion, Advanced radio and Fieldcraft.
As you progress through the syllabus you'll gain new classifications, starting at First Class and going up to Instructor Cadet.  
Cadets will develop a wide variety of skills including effective communication, career planning, the value of volunteering and character development.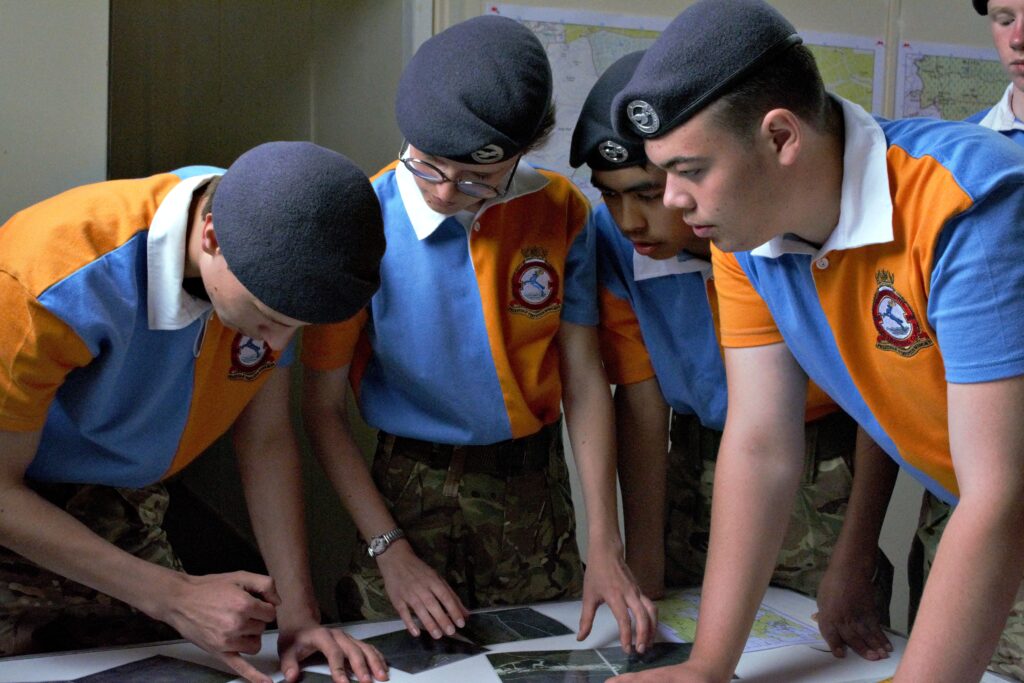 The challenge of teamwork and leadership is the ultimate test for a cadet. On squadron evenings, we regularly take part in leadership exercises which involves us all working as a team to complete a mission. As cadets become more experienced, they will learn more skills involving being a leader and follower as well.
There are also many courses available for cadets of all levels. An example of these courses is the Junior Non-Commissioned Officer course which is the one to go on if you are looking to move from Cadet to Corporal. It not only develops your leadership skills but teaches you how to deliver lessons and training to your fellow cadets. So, no matter how confident you are, Air Cadets can help to make you into a true leader.
Do you have a flair for music? Music plays a popular role in the life of cadets, and there's opportunities for everyone.
Our aims are to introduce you to music within the cadets, provide you with musical instruction and the opportunity to play in our bands. There's multiple ways you can get involved, such as the Sqn ensemble or even the corps marching band. Whether you've never played an instrument before, or you've been playing for year's, there's a musical place for you in the air cadets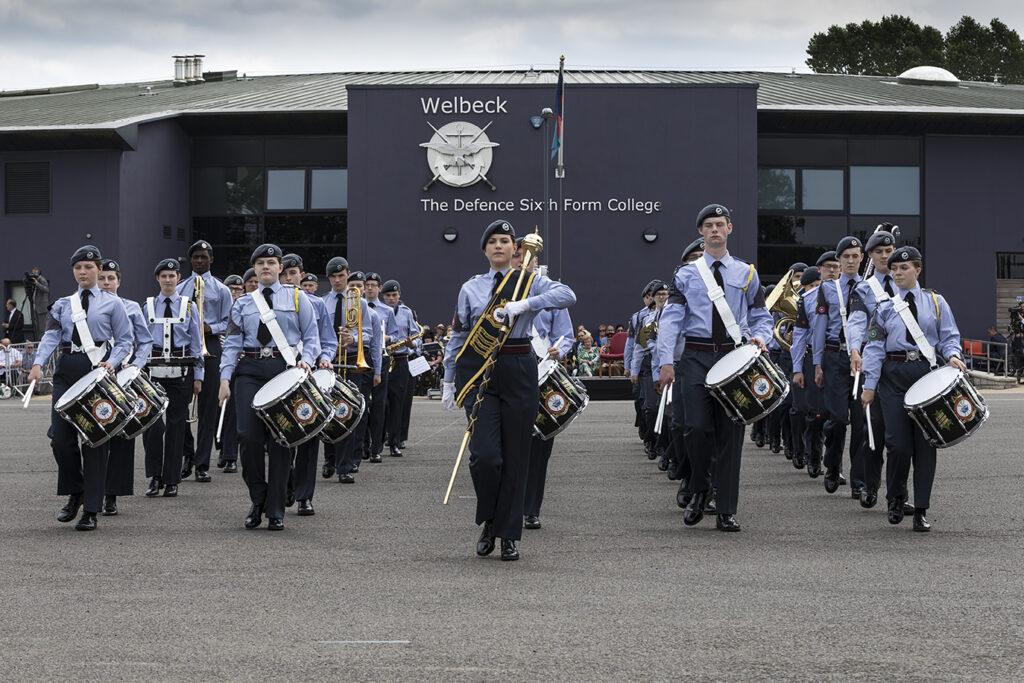 Adventure Training is an essential part of the Air Cadet's training syllabus and the place where team effort really matters – you'll build new friendships and learn to rely on the other people you're with to get the job done. It also lets you show off your leadership qualities.
Do overseas camps, winter sports, bridge building, water sports, and mountain biking sound enticing? Join 2484 (Bassingbourn) Squadron and these could become a regular occurrence in your life!
The Air Cadet Organisation has two dedicated training centres in Cumbria and North Wales. Bassingbourn cadets visit them every year, giving them the opportunity to gain new qualifications and take part in some amazing adventures.